Comprehensive Data Analysis and Information Management
VeriSeq PGS includes a license for BlueFuse Multi software, a complete solution for analyzing and reporting VeriSeq results. BlueFuse supports the complete laboratory workflow, from sample receipt to results software (Figure 2).
Sample Database
BlueFuse uses a scalable database architecture to store all sample details, experimental information, and results. Simple filters, powerful queries, and visual representation of each IVF cycle make sure that the right information is available when needed. Within a BlueFuse Multi database, PGS data generated using 24sure microarrays can be analyzed, stored, and viewed alongside VeriSeq PGS data.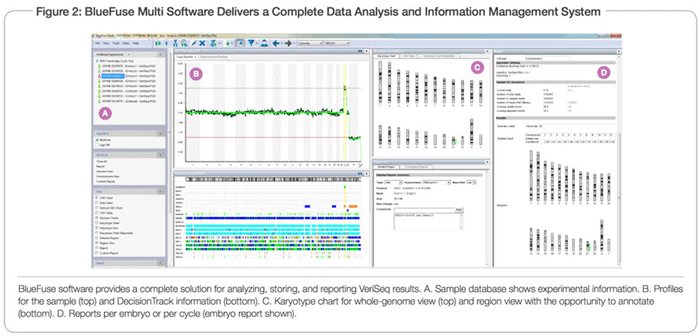 BlueFuse Multi Software Deliver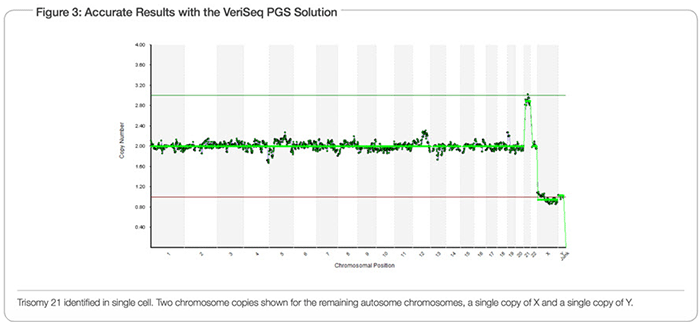 Accureate Results with the VeriSeq PGS Solution
Automated Analysis
Demultiplexed sample information is uploaded directly from the MiSeq System, saving time and allowing sample tracking. Single-click shortcuts provide rapid access to run and sample reports for easy QC.
Clear Profiles
Powerful visualization capabilities generate profiles from thousands of pooled measurements from each flow cell, enabling full understanding of the status of each chromosome and results confirmation.
Concise Reports
Sophisticated algorithms calculate and call the status for each chromosome as either normal or abnormal, and include an estimate of confidence in the call based on assay noise or any underlying ambiguity. In addition to reproducibility and objectivity, this enables comparison of laboratory results with those published in the literature. The end product is an automated sample and cycle report.
Accurate Aneuploidy Screening
To demonstrate the utility of NGS for PGS, data generated from single cells on the MiSeq System was compared to data from a 24sure assay, the most widely used technology for PGS. For sequencing data, the number of sequences is proportional to copy number so a greater or lower number of reads will correspond to trisomy or monosomy (Figure 3). In a recent study, Fiorentino F, et al. (2014) validate use of NGS for PGS3. In a blinded study, 18 single cells and 190 whole-genome amplification (WGA) products from single blastomeres were evaluated, assessing 4,992 chromosomes, 402 of which carried a copy number imbalance. NGS specificity for aneuploidy call (consistency of chromosome copy number assignment) was 99.98% with a sensitivity of 100%. NGS specificity for aneuploid embryo call (24-chromosome diagnosis consistency) was 100% with a sensitivity of 100%. Both positive and negative predictive values of the NGS-based 24-chromosome aneuploidy screening protocol were 100%.
Looking Forward
Bringing NGS into the laboratory for PGS represents the beginning of new opportunities. With applications spanning the entire human genome, NGS opens up new assay offerings, enabling an incremental increase in portfolio offerings.
Summary
The VeriSeq PGS Kit – MiSeq and MiSeq System bring the power of NGS to IVF, providing the potential to increase pregnancy success rates. The accurate aneuploidy screening results are comparable to the current industry standards. But this is just the beginning for NGS. As we learn more, NGS opens up improved workflows for more precise performance and new opportunities.